Beth Bandy

Beth Bandy, Principal of International Fundraising Intelligence LLC, connects charitable organizations with donors around the world through prospect research, training, and consulting. She is the author of China: A Guide for Prospect Researchers, and teaches courses in international research techniques. She regularly writes about international wealth and philanthropy issues on her blog. On Twitter, she is @BethMBandy.
Articles by Beth Bandy:
---

Finding statistics in Latin America
Tuesday, 10th July 2012
Emerging markets demand careful attention to data to identify opportunity and reduce risk. Sources of statistics for Latin America are put at your fingertips by a number of organisations.
---

Sources for Latin American Business and Financial Research
Tuesday, 10th July 2012
Whether you are seeking insights into regional economic trends or need to find information about a particular company, there are many excellent resources available to help you find the information about Latin America that you need. The trick is knowing where to look.
What's new at Jinfo?
Jinfo Overview - August 2021
View on YouTube
---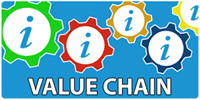 Five newly recorded webinars on how to complete the activities in our Focus on Value Chain now available.
---
Express value the way stakeholders do with Value Chain analysis
"I can now sit in a meeting with my stakeholders and articulate the role information plays in their workflows. They understand our contribution to their success." Information Senior Scientist, heavy manufacturing industry
---
With Jinfo Consulting, you get accountability, fine-tuned guidance and industry-wide perspective.