Rachael Elliott

Rachael Elliott is the insight manager at M&A advisory firm BCMS, in Berkshire, England.
Rachael started her career as a competitive intelligence analyst. She subsequently worked in research and analysis at Marakon Associates, HSBC and BDO LLP. Rachael possesses particular expertise in the fields of technology/media/telecoms, pharmaceuticals, and manufacturing. Her writing and research regularly appear in journals and the national press.
Rachael"s diverse interests range from being a Brompton Bicycle World Champion, lead violinist in the Newbury Symphony Orchestra through to holding a fascination with rail network design, these have led her to her build up the popular Twitter handle @rach_e
Articles by Rachael Elliott:
---

The slow shift of current awareness to mobile devices
Thursday, 15th September 2016
Rachael Elliott contrasts the rapid rise of consumer mobile apps with the slow growth of apps from information providers. She examines why mobile apps are important and contrasts the offerings from some large players. Rachael then takes a c­­­­­­loser look at a new iPhone app from Factiva and the Google News mobile app and concludes by looking at future trends and suggests some practical next steps.
---

What does artificial intelligence mean for current awareness?
Friday, 19th August 2016
Rachael Elliott examines the processes of research and current awareness and considers the impact that artificial intelligence (AI) will have on research and on the role of the information professional. She looks at key players in this market: Google with DeepMind, IBM with Watson, and Microsoft with Azure and Delve and how information professionals could tap into this technology.
---

Increasing Relevance of Online Video for Research
Thursday, 24th December 2015
Rachael Elliott explains why video should be an increasing part of your research focus - and provides some useful tips for specialist sources such as Storyful and Vevo, insight into how mainstream news databases such as Factiva are embracing video, and her views on the extra dimensions that video can bring to your research.
---

Time to Review Your Information Database
Tuesday, 29th October 2013
A review of the usage and usefulness of your information database should be carried out regularly, advises Rachael Elliott. She provides advice for those considering changing to a new source and tips on how to ensure corroboration, depth and accuracy of information when using social media channels alongside traditional databases.
---

The Online Information Researcher of 2014: Beyond News Aggregation
Friday, 25th October 2013
Rachael Elliott looks into the changing landscape of business information sources from the days of the microfiche to the wealth of free information available on the web and gives the pros and cons some of the current news aggregation tools such Google News, M-Brain, RSS feeds and Twitter. She encourages us to go beyond the "usual suspects" for our business information news and to not to write off social media as an information source.
What's new at Jinfo?
Jinfo Overview - August 2021
View on YouTube
---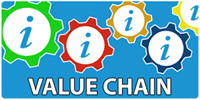 Five newly recorded webinars on how to complete the activities in our Focus on Value Chain now available.
---
Express value the way stakeholders do with Value Chain analysis
"I can now sit in a meeting with my stakeholders and articulate the role information plays in their workflows. They understand our contribution to their success." Information Senior Scientist, heavy manufacturing industry
---
With Jinfo Consulting, you get accountability, fine-tuned guidance and industry-wide perspective.