Dr Phil Hastings

Dr Phil Hastings is the senior vice president of sales and marketing based at Linguamatics" Cambridge headquarters and has over 20 years of experience in the scientific information and software industries. He worked for a number of years in commercial and product management roles for scientific, technical and medical content providers John Wiley and Sons and the Thomson Corporation. Prior to joining Linguamatics, Phil spent over five years at Accelrys, a leading provider of molecular modelling and informatics software, in product marketing and business development roles. Phil holds a PhD from the University of Nottingham. Phil was recruited by Linguamatics in 2004 to take its text mining solutions to market, and has overall responsibility for business development including sales, marketing and strategic alliances.
Articles by Dr Phil Hastings:
---

Big Data: Providing Speed to Insight
Tuesday, 28th May 2013
The true value of big data is the ability to analyse large datasets and in a competitive business environment the time required to reach this analysis is critical. During a recent interview with Dr Phil Hastings, SVP of Marketing for Linguamatics, we came away with some practical examples of how text mining can be used to achieve "speed to insight".
---

Big Data: Speed to Insight, an Interview with Linguamatics
Tuesday, 28th May 2013
Natural language processing-based text mining is a powerful application for mining big data in the healthcare and pharmaceutical arena, for example. FreePint's series producer Victor Camlek interviews Linguamatics to find out why its flagship product I2E is used by top commercial, academic and government organisations and how it helps them to get the answers to highly sophisticated questions.
What's new at Jinfo?
Jinfo Overview - August 2021
View on YouTube
---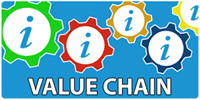 Five newly recorded webinars on how to complete the activities in our Focus on Value Chain now available.
---
Express value the way stakeholders do with Value Chain analysis
"I can now sit in a meeting with my stakeholders and articulate the role information plays in their workflows. They understand our contribution to their success." Information Senior Scientist, heavy manufacturing industry
---
With Jinfo Consulting, you get accountability, fine-tuned guidance and industry-wide perspective.