Scott Weber

Scott Weber brings a history of legal and governmental experience to Opera Solutions Government Services. He"s been a partner at two leading international law firms and has served as Senior Counselor to the Secretary at the US Department of Homeland Security, and is a Senior Advisor to the Homeland Security and Defense Business Council. He has also been Special Counsel to the New Jersey Office of the Child Advocate of the New Jersey Senate Judiciary Committee, and a member of former New Jersey Governor Jon S. Corzine"s Advisory Committee on Police Standards.
Scott appears frequently as an expert on national security on broadcast outlets including Fox News, CNBC, CNN, and BBC Television. He has also written for Forbes.com, Security Debrief, and The National Journal. In addition to his role at OSGS, Scott is a partner at the law firm of Patton Boggs, LLP, and a Senior Advisor at The Chertoff Group, LLC.
Articles by Scott Weber:
---

Opera Solutions: Big Data Becomes Actionable Data
Thursday, 6th June 2013
FreePint interviewed Scott Weber, who heads up Opera Solutions Government Services, specialists in turning big data into "actionable data", and found out how they can create alerts and recommendations to gain "anticipatory intelligence" that enables front-line workers to make better decisions, faster.
---

Q&A with Opera Solutions: Making Big Data Smaller
Thursday, 6th June 2013
The big data ecosystem is growing exponentially and the task of grappling with the data is becoming correspondingly more complex. FreePint met Scott Weber of Opera Solutions Government Services to find out how its team of scientists and engineers turns huge datasets into "anticipatory intelligence" to allow organisations to take smarter actions.
What's new at Jinfo?
Jinfo Overview - August 2021
View on YouTube
---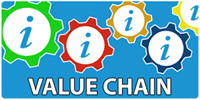 Five newly recorded webinars on how to complete the activities in our Focus on Value Chain now available.
---
Express value the way stakeholders do with Value Chain analysis
"I can now sit in a meeting with my stakeholders and articulate the role information plays in their workflows. They understand our contribution to their success." Information Senior Scientist, heavy manufacturing industry
---
With Jinfo Consulting, you get accountability, fine-tuned guidance and industry-wide perspective.