Michael Levy

Michael R. Levy is the principal of GZ Consulting, a market research and competitive intelligence consulting firm based in Massachusetts. Michael founded the firm in February 2012 after leaving Infogroup where he was the Manager of Strategy and Competitive Intelligence. He focuses on information services including sales intelligence, CRM, data hygiene, and marketing automation. Michael is also the author of "2015 Field Guide to Sales Intelligence Vendors". He can be contacted at MLevy@GZConsulting.org
Articles by Michael Levy:
---

Q&A with Emissary - the importance of tacit knowledge
Thursday, 11th May 2017
Emissary, a new entrant to the sales intelligence space, matches recently departed high-level executives with account executives to assist in account planning. Michael Levy recently spoke to its CEO and founder, David Hammer, to discuss his thinking behind the creation of the company, the importance of tacit knowledge and the role of his "emissaries".
---

Mini Review of CB Insights for Sales
Monday, 23rd May 2016
CB Insights for Sales is designed for strategic sales teams that target fast growth companies. The firm collects company profiles, M&A activity, and funding intelligence. They also maintain profiles of investors in high-growth companies. Michael Levy explores why this could make good complement to traditional sales intelligence solutions.
---

Q&A with Avention - An update on DataVision
Thursday, 5th May 2016
Avention recently launched DataVision, their first product designed specifically for marketers. Michael Levy interviews Avention's Lauren Bakewell to find out more about the new product and why they've extended from sales intelligence and business research tools into marketing technology, her views on account-based marketing, and what developments are in the pipeline.
---

Detecting Latent Sales Opportunities via Sales Triggers
Tuesday, 24th November 2015
Competitive and sales intelligence expert Michael Levy highlights how using subscription information services coupled with information from social media and other sources is essential to allow sales reps to identify companies in flux and with emerging demand. He identifies how vendors such as Avention, BvD Mint, Hoover's, InsideView, and Owler help identify emerging opportunities and prospects.
---

Owler - A Successful Pivot
Tuesday, 7th October 2014
Michael Levy reflects on Owler, a free company profiling resource from Jigsaw and InfoArmy founder Jim Fowler, launched earlier in 2014.
Reports by Michael Levy:
---

FreePint Report: Product Review of RelSci
Monday, 5th May 2014
Business intelligence database RelSci focuses on "relationship science" to map who you know with who the movers and shakers know... Michael Levy"s in-...
What's new at Jinfo?
Jinfo Overview - August 2021
View on YouTube
---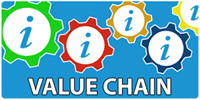 Five newly recorded webinars on how to complete the activities in our Focus on Value Chain now available.
---
Express value the way stakeholders do with Value Chain analysis
"I can now sit in a meeting with my stakeholders and articulate the role information plays in their workflows. They understand our contribution to their success." Information Senior Scientist, heavy manufacturing industry
---
With Jinfo Consulting, you get accountability, fine-tuned guidance and industry-wide perspective.