Victoria Meyer

Victoria Meyer is a forensic accountant and specialist in linguistic identity matching. After over a decade of leading forensic technology work for KPMG and PwC she moved into the financial services sector where she designed and implemented the screening system for one of Switzerland"s largest banks. She currently focuses on Anti-Money Laundering investigations and has recently led a UN project to design a new data format for international watchlists.
Articles by Victoria Meyer:
---

Combat Transcription Errors With Linguistic Identity Matching
Tuesday, 8th October 2013
Accurate linguistic identity matching is essential for compliance professionals. Victoria Meyer examines the main sources of variations in names and highlights what to look for when choosing a compliance screening system. She focuses on transcription variants, where phonetics can create many different transcription variants. The ideas presented here are taken from "Linguistic Identity Matching" by Lisbach and Meyer (2013).
---

Linguistic Identity Matching
Monday, 7th October 2013
This article looks at the modern, linguistic approach to identity matching that has improved both the precision and the recall of compliance screening systems. It considers the different sources of variation in the ways identity details can be presented, and goes on to look at the most effective ways of addressing them. The ideas presented here are taken from "Linguistic Identity Matching" by Lisbach and Meyer (2013).
---

Key Criteria for Effective AML Compliance Screening
Wednesday, 2nd October 2013
Victoria Meyer introduces key concepts in effective intelligence screening within Anti-Money Laundering programmes. She discusses the importance of matching intelligence data to the organisation's risk appetite and the impact that additional records will have on search times and hit-handling resources. Pre-screening formatting and consolidation processes in compliance programmes are also covered along with ways to identify compliance software which features robust search processes.
---

Supporting the AML Compliance Screening Process
Monday, 30th September 2013
Intelligence screening is the cornerstone of many organisations' Anti-Money Laundering (AML) programmes. In this article Victoria Meyer looks at the key requirements for an effective screening system: comprehensive intelligence data, appropriate search tools and decision support functionality.
What's new at Jinfo?
Jinfo Overview - August 2021
View on YouTube
---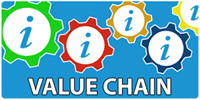 Five newly recorded webinars on how to complete the activities in our Focus on Value Chain now available.
---
Express value the way stakeholders do with Value Chain analysis
"I can now sit in a meeting with my stakeholders and articulate the role information plays in their workflows. They understand our contribution to their success." Information Senior Scientist, heavy manufacturing industry
---
With Jinfo Consulting, you get accountability, fine-tuned guidance and industry-wide perspective.