Anne Rogers

Anne Rogers is senior director, Research & Knowledge Management Services at Cargill in Minneapolis. She is responsible for managing a global team that provides professional business and technical information research work and knowledge processes and systems. She has a passion for making it easy to connect people to people and people to information to promote productivity and insights, for leading an R&D Knowledge Management Team to create processes and systems for effective sharing and management of knowledge created in Cargill"s global research functions.
Prior to joining Cargill, Anne spent 20 years at The Dow Chemical Company in Midland, Michigan, where she held a number of information management positions.
Articles by Anne Rogers:
---

Functional partnerships and information services - how about that IT/IS relationship?
Wednesday, 19th June 2019
The subject of how an information service can effectively work with IT is something Jinfo has touched on previously and is still as pertinent as ever. With the ever-increasing pace of technological change and the information department's dependence on IT, Anne Rogers of Cargill takes another look at this area and ask what makes an effective relationship and how you can establish a "functional" relationship with IT.
---

My Favourite Tipples from a head of knowledge and research services
Wednesday, 22nd June 2016
My Favourite Tipples are shared by Anne Rogers, director, knowledge and research services at Cargill's InfoCenter. She shares her favourite online resources in areas from knowledge management to current awareness and basketball.
---

My Favourite Tipples from a Global Knowledge & Research Specialist
Wednesday, 12th February 2014
Anne Rogers is director, Knowledge and Research Services at Cargill's InfoCenter. Cargill is an international producer and marketer of food, agricultural, financial and industrial products and services. Anne shares her favourite tipples.
What's new at Jinfo?
Jinfo Overview - August 2021
View on YouTube
---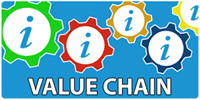 Five newly recorded webinars on how to complete the activities in our Focus on Value Chain now available.
---
Express value the way stakeholders do with Value Chain analysis
"I can now sit in a meeting with my stakeholders and articulate the role information plays in their workflows. They understand our contribution to their success." Information Senior Scientist, heavy manufacturing industry
---
With Jinfo Consulting, you get accountability, fine-tuned guidance and industry-wide perspective.