Ben Wightwick

Ben Wightwick is a product director at HighQ. Ben works with clients on improving both internal and external communication and knowledge management with a focus on getting work done by taking modern social technology concepts and solutions and applying them to the enterprise. You can reach Ben via twitter or by email.
HighQ provides innovative solutions to some of the world"s leading organisations. We uniquely combine secure, enterprise-grade technology with the best ideas and user experience from consumer tools to enable you to securely exchange business critical information and collaborate with colleagues, customers and partners in one unified space.
Articles by Ben Wightwick:
---

Enterprise Collaboration Enables New Ways of Doing Business
Friday, 7th March 2014
As part of the FreePint Topic Series: The Social Enterprise, Ben Wightwick looks at factors to consider when reviewing enterprise collaboration solutions and some of the influencing trends associated with social business and the future of work.
---

What to Look for in an Enterprise Collaboration Platform
Thursday, 6th March 2014
The demand for secure file sharing, social task management and social collaboration is growing at a rapid pace. But choosing the right software is the challenge. Ben Wightwick highlights six important areas to look out for when buying an enterprise collaboration platform, two important challenges faced when implementing one and some next steps.
What's new at Jinfo?
Jinfo Overview - August 2021
View on YouTube
---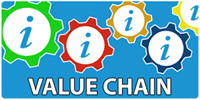 Five newly recorded webinars on how to complete the activities in our Focus on Value Chain now available.
---
Express value the way stakeholders do with Value Chain analysis
"I can now sit in a meeting with my stakeholders and articulate the role information plays in their workflows. They understand our contribution to their success." Information Senior Scientist, heavy manufacturing industry
---
With Jinfo Consulting, you get accountability, fine-tuned guidance and industry-wide perspective.