Amit Kothari

Amit Kothari is an entrepreneur and consultant. He is currently being grant-funded by the Government of Chile to build Tallyfy - a highly usable tool that simplifies, tracks and measures core business processes, in real-time - on any device. It transforms workflows into simple checklists with highly focused social features, for the first time. He spent many years helping to roll out enterprise social software within blue chips and law firms, with a first-hand view of the practical issues.
Articles by Amit Kothari:
---

Changing News Consumption Habits
Monday, 1st December 2014
Amit Kothari discusses how to leverage news sources for business advantage and how to ensure news consumption is recognised as a high-level process.
---

Organising and Delivering Practical Actions from News Content
Wednesday, 26th November 2014
The consumption of news has changed radically in the past few years. The devices we use to read news have changed, along with the possible targets and methods of taking actions from news content. In an environment where you need to act decisively on news that directly affects your reputation, knowledge base and competitive position, it is very important to understand how to leverage news sources. Amit Kothari discusses ways in which better value can be driven from investment in news content that is produced both externally and internally.
---

Structure, Visibility & Measurement: Linking Social to Business Processes
Monday, 10th March 2014
Social enterprise efforts have sceptics - and sometimes for good reason. Whilst social collaboration has important qualitative use cases, some executives struggle to see how social tools can fit into existing business processes. Social by nature is unstructured, but bringing social behaviour into a structured process could provide visibility, enable process improvements and allow you to capture all actions - down to the tiniest step to see real-time analytics.
---

Bridging the Gap Between Business Processes & the Social Enterprise
Friday, 7th March 2014
The social enterprise "tidal wave" has begun to break at the beach of business processes. "Social", in the way it's manifested at present, is only suited for some business processes. However, social approaches can bring visibility to core business processes. They can encourage consistency in processes, and they can solicit and reward improvements through crowdsourcing. Measuring micro-level steps within processes is the next frontier in value for management, producing analytics we've never seen before.
What's new at Jinfo?
Jinfo Overview - August 2021
View on YouTube
---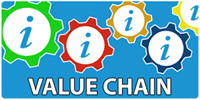 Five newly recorded webinars on how to complete the activities in our Focus on Value Chain now available.
---
Express value the way stakeholders do with Value Chain analysis
"I can now sit in a meeting with my stakeholders and articulate the role information plays in their workflows. They understand our contribution to their success." Information Senior Scientist, heavy manufacturing industry
---
With Jinfo Consulting, you get accountability, fine-tuned guidance and industry-wide perspective.