Marc Limacher

Marc Limacher started I.S.I.S. in 1992 as a boutique primary CI speciality firm focusing exclusively on the life sciences (12 therapy areas & med devices) and IT industries.
As a 26-year veteran in the CI and counter-intelligence industry, he has grown I.S.I.S. into a global leader in primary commercial, technology, clinical, and regulatory intelligence & strategic consulting services, counting a select group of global Fortune 100 companies as loyal clients.
As a best practices expert in ethical strategic and tactical Competitive Intelligence (CI) investigations, systematic CI tracking programs, war gaming, and counter-intelligence services, Marc also provides custom seminars to companies and academia.
Articles by Marc Limacher:
---

The Importance of Competitive Intelligence in the Biotech Industry
Wednesday, 11th June 2014
Marc Limacher takes a look at the importance of having a systematic competitive intelligence process in place, with a particular focus on companies in the biotech, life sciences and IT industries.
---

The Case for Systematic Primary Intelligence Tracking with Tangible ROI
Monday, 9th June 2014
Marc Limacher explores the importance of a systematic Competitive Intelligence capability for the biotech and life sciences industry - in order to support future-oriented decisions, to out-think the competition, or allocate R&D resources appropriately. He also highlights how important CI is in the IT industry with its short product lifecycles. The need to adhere to a code of ethics and ways to ethically and legally collect CI data are also discussed.
---

Developing & Leveraging Your Primary Source Network for High Impact Competitive Intelligence
Thursday, 15th May 2014
Marc Limacher identifies how to cultivate a network of internal and external primary sources for a competitive intelligence early warning system, how to foster a CI culture and how to leverage insights for maximum impact. He demonstrates how human intelligence can provide critical competitive advantage.
What's new at Jinfo?
Jinfo Overview - August 2021
View on YouTube
---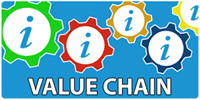 Five newly recorded webinars on how to complete the activities in our Focus on Value Chain now available.
---
Express value the way stakeholders do with Value Chain analysis
"I can now sit in a meeting with my stakeholders and articulate the role information plays in their workflows. They understand our contribution to their success." Information Senior Scientist, heavy manufacturing industry
---
With Jinfo Consulting, you get accountability, fine-tuned guidance and industry-wide perspective.