Mark Dunn

Mark Dunn is the due diligence segment leader for Risk & Compliance at LexisNexis. He is responsible for product management and development of the LexisNexis Business Information Solutions due diligence applications. He is the spokesman on Anti-Money Laundering, Anti-Bribery & Corruption and sanctions compliance. He is also responsible for helping to shape the LexisNexis Risk and Compliance strategy and business development.
Mark joined LexisNexis in 2000 following the acquisition of Financial Times Information. He developed the Lexis Diligence application used by banks, law firms and accountants to conduct enhanced customer due diligence for Anti-Money Laundering compliance and by global institutions for anti-bribery & corruption investigations. Mark is a regular speaker at industry events and has written extensively for industry journals.
Articles by Mark Dunn:
---

Due Diligence - Fighting Corruption
Tuesday, 26th August 2014
Mark Dunn describes the key elements of effective due diligence, including Simplified Due Diligence for "low risk" clients and Enhanced Due Diligence for "high risk" prospective clients or third-parties.
---

Due Diligence - from Business Burden to Business Benefit
Tuesday, 19th August 2014
Organisations face growing legal and reputational risks associated with doing business. These risks have become even more significant because of mounting pressure from regulators and an increase in business carried out in higher risk jurisdictions. Increasingly complex business regulations such as the US Foreign Corrupt Practices Act (FCPA) and the UK Bribery Act ensure that companies thoroughly examine third-party relationships to tackle the risk of money laundering, bribery and corruption and sanctions regimes. Mark Dunn looks at what the law says regarding Anti-Money Laundering and Anti-Bribery & Corruption, and how organisations can mitigate the risk of becoming involved in corruption through third parties (e.g. agents, suppliers) by implementing a simplified or Enhanced Due Diligence process.
What's new at Jinfo?
Jinfo Overview - August 2021
View on YouTube
---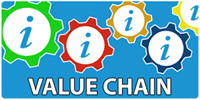 Five newly recorded webinars on how to complete the activities in our Focus on Value Chain now available.
---
Express value the way stakeholders do with Value Chain analysis
"I can now sit in a meeting with my stakeholders and articulate the role information plays in their workflows. They understand our contribution to their success." Information Senior Scientist, heavy manufacturing industry
---
With Jinfo Consulting, you get accountability, fine-tuned guidance and industry-wide perspective.