Phil Bradley

Phil Bradley is an internet consultant, trainer and author who has worked in this field for 20 years. He"s well known for his work in the areas of search engines and social media. Clients range from school librarians to corporate, government, charity and public library information professionals. He regularly speaks at national and international conferences on different aspects of the Internet, and also writes two blogs on search and social media.
Phil is a past president of CILIP. When not working his interests include reading, American history, photography and walking his dog. You can find him on Twitter @philbradley
Articles by Phil Bradley:
---

Improve Training by Tapping into New Technology
Monday, 22nd June 2015
Phil Bradley considers the changing world of training and why it's essential to keep up with the latest technology developments - whether running a training course or keeping your own skills up to date.
---

How to Create a Training Video in No Time At All
Thursday, 18th June 2015
Phil Bradley explains why videos are an increasingly important part of the trainer's armoury. His article explores what you need to know and what equipment you need before you start filming. He also looks at some of the best resources for online video training, screen recording software, and identifies some of the best apps to enable you to record and edit direct from mobile devices.
---

Crafting a Compelling Presentation
Wednesday, 13th May 2015
Presentations don't need to be dull PowerPoint fests. Phil Bradley has been providing information skills training for many years and gives a taste of different ways to make PowerPoint presentations more exciting and how to liven up training sessions for information skills.
---

Create Engaging and Memorable Presentations by Going Beyond PowerPoint
Thursday, 7th May 2015
Phil Bradley considers some of the different ways in which people can create presentations. Rather than be constrained by the limitations of the PowerPoint software package there are many other tools from Prezi to Powtoon and Animoto that are freely available on the internet. These not only allow you to produce more interesting and visually exciting presentations whether in slide, video or timeline format, they can help you overcome the slide/bullet point approach which is becoming more hackneyed by the day.
What's new at Jinfo?
Jinfo Overview - August 2021
View on YouTube
---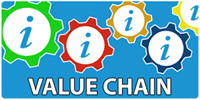 Five newly recorded webinars on how to complete the activities in our Focus on Value Chain now available.
---
Express value the way stakeholders do with Value Chain analysis
"I can now sit in a meeting with my stakeholders and articulate the role information plays in their workflows. They understand our contribution to their success." Information Senior Scientist, heavy manufacturing industry
---
With Jinfo Consulting, you get accountability, fine-tuned guidance and industry-wide perspective.