Kate Stanfield

Kate Stanfield is head of knowledge management at CMS Cameron McKenna LLP, a leading law firm advising businesses, financial institutions, public sector bodies and governments around the world.
Kate has 25 years" experience of working in a knowledge role within law firms, and six years before that in public and business libraries. She has experienced the development and process of KM in all of its glory and its restrictions, and helped legal teams with knowledge and information services, from knowledge sharing audits, creating knowledge strategies, through to improving intranets and developing taxonomy for the business.
Articles by Kate Stanfield:
---

My Favourite Tipples from a Head of Knowledge Management
Tuesday, 19th May 2015
My Favourite Tipples are shared by Kate Stanfield, head of knowledge management for a commercial law firm. She shares her favourite online resources in areas from technical forums for intranets, to legal coverage and language learning.
What's new at Jinfo?
Jinfo Overview - August 2021
View on YouTube
---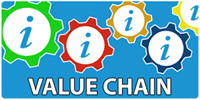 Five newly recorded webinars on how to complete the activities in our Focus on Value Chain now available.
---
Express value the way stakeholders do with Value Chain analysis
"I can now sit in a meeting with my stakeholders and articulate the role information plays in their workflows. They understand our contribution to their success." Information Senior Scientist, heavy manufacturing industry
---
With Jinfo Consulting, you get accountability, fine-tuned guidance and industry-wide perspective.