Shaida Dorabjee

Shaida Dorabjee is an experienced library and information manager and consultant who advises private and public sector organisations how to make the best use of information and knowledge, focusing on the resources and the people rather than the technology. She also runs courses on how to undertake service reviews, marketing a service, managing staff and addressing culture change within organisations. www.sdis.co.uk
Articles by Shaida Dorabjee:
---

Managing Difficult People
Wednesday, 27th January 2016
People who are not adapting to a situation or do not understand what is required of them may be classed as "difficult". This is not always their fault. Shaida Dorabjee provides valuable tips for managers dealing with tricky situations or "difficult" people.
---

Creating the Right Organisational Culture
Thursday, 7th January 2016
As part of the FreePint Research Focus "Strategic Alignment of IS and IT", management and culture change consultant Shaida Dorabjee shares her experiences of making changes to culture at a fundamental level, to go beyond tweaking processes or reporting lines, in order to put strategic organisational objectives at the forefront of every department and staff at all levels.
---

My Favourite Tipples from a Library and Information Management Consultant & Trainer
Wednesday, 23rd September 2015
My Favourite Tipples are shared by Shaida Dorabjee, a library and information management consultant. She shares her favourite online resources in areas from creative problem solving to organisational culture and marketing.
What's new at Jinfo?
Jinfo Overview - August 2021
View on YouTube
---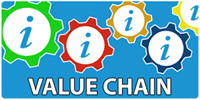 Five newly recorded webinars on how to complete the activities in our Focus on Value Chain now available.
---
Express value the way stakeholders do with Value Chain analysis
"I can now sit in a meeting with my stakeholders and articulate the role information plays in their workflows. They understand our contribution to their success." Information Senior Scientist, heavy manufacturing industry
---
With Jinfo Consulting, you get accountability, fine-tuned guidance and industry-wide perspective.