Tim Barlow

Tim Barlow is head of Legal Information Services at Stephenson Harwood LLP, a law firm of over 800 people worldwide, including 130 partners. He has previously been an intranet manager and knowledge manager and has worked in information roles since the 1980s at Ernst and Young, Accenture and LexisNexis. He is a Council Member of BIALL, the British and Irish Association of Law Librarians. His email address is tim.barlow@shlegal.com and he can be contacted via LinkedIn.
Articles by Tim Barlow:
---

When Do Information Services Projects Belong on the IT Side?
Wednesday, 24th February 2016
Tim Barlow discusses where the border should be drawn between the work of the information services (IS) and information technology (IT) teams. His experience is that "mission creep" on IT-related projects can be a problem in the IS team. He outlines a series of recommendations for ensuring tasks don't fall beyond the technical ability or strategic scope of the IS team and how to identify what should be carried out by IT colleagues.
What's new at Jinfo?
Jinfo Overview - August 2021
View on YouTube
---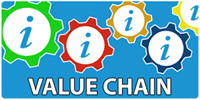 Five newly recorded webinars on how to complete the activities in our Focus on Value Chain now available.
---
Express value the way stakeholders do with Value Chain analysis
"I can now sit in a meeting with my stakeholders and articulate the role information plays in their workflows. They understand our contribution to their success." Information Senior Scientist, heavy manufacturing industry
---
With Jinfo Consulting, you get accountability, fine-tuned guidance and industry-wide perspective.