Mark Gediman

Mark Gediman is the director of information services for Best Best & Krieger, LLP and manages the research needs of more than 200 attorneys and paralegals in nine offices from DC to California. He is a past-president of the Southern California Association of Law Libraries (SCALL) and the co-founder and co-chair of the Competitive Intelligence Caucus of the Private Law Libraries-Information Professionals (PLL-IP) Special Interest Section of the American Association of Law Libraries (AALL). He has over 25 years of experience in law library management and writes regularly on competitive intelligence, research and library management issues.
Articles by Mark Gediman:
---

There's No Such Thing as a Free Lunch - What's the Value of Google?
Monday, 6th June 2016
Does Google have a place in the information researcher's armoury? Is it a tool or a resource? Mark Gediman, director of information services for legal firm Best Best & Krieger, LLP, makes the case and highlights some aspects of Google that you may not be aware of.
What's new at Jinfo?
Jinfo Overview - August 2021
View on YouTube
---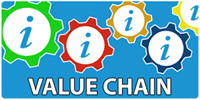 Five newly recorded webinars on how to complete the activities in our Focus on Value Chain now available.
---
Express value the way stakeholders do with Value Chain analysis
"I can now sit in a meeting with my stakeholders and articulate the role information plays in their workflows. They understand our contribution to their success." Information Senior Scientist, heavy manufacturing industry
---
With Jinfo Consulting, you get accountability, fine-tuned guidance and industry-wide perspective.