Jennifer Burke

Jennifer E. Burke is president of IntelliCraft Research LLC, a strategic marketing consultancy for libraries, in Philadelphia. She"s a former advertising executive and now a trainer to libraries on strategic storytelling. She holds a BS in Communications with a TV/Film minor from Northwestern University, an MSLIS from Drexel University, and spent five years as an IMLS Fellow in Drexel"s Information Studies PhD program. She"s the president of the board of directors for the nonprofit Library Marketing Conference Group. Her email address is jburke@intellicraftresearch.com and can be followed on Twitter at @TheInfoHound.
Articles by Jennifer Burke:
---

How to develop and improve your presentation skills
Monday, 1st April 2019
Information professionals inform, educate, and persuade internal and external audiences as a natural part of their jobs. You will have opportunities for public speaking and making presentations, whether to small groups for a "lunch and learn", internally to your organisation to pitch new services, or at an event in front of hundreds of your peers. Trust in your ability to deliver expert services is enhanced if your speaking and presentation skills reflect preparation, polish, and confidence. This article offers practical tips for crafting better presentations and speaking with ease.
---

My Favourite Tipples from a strategic marketing consultant
Wednesday, 19th October 2016
My Favourite Tipples are shared by Jennifer E. Burke, president of IntelliCraft Research LLC., (also known online by her alter ego, The InfoHound). She shares some favourite online tools for marketing communications.
What's new at Jinfo?
Jinfo Overview - August 2021
View on YouTube
---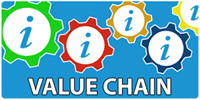 Five newly recorded webinars on how to complete the activities in our Focus on Value Chain now available.
---
Express value the way stakeholders do with Value Chain analysis
"I can now sit in a meeting with my stakeholders and articulate the role information plays in their workflows. They understand our contribution to their success." Information Senior Scientist, heavy manufacturing industry
---
With Jinfo Consulting, you get accountability, fine-tuned guidance and industry-wide perspective.