Wasim Ahmed

Wasim Ahmed is a PhD candidate and research associate at the Information School, University of Sheffield. Wasim is a regular contributor to the LSE Impact Blog and his posts cover key trends and issues within social media, but also more practical suggestions on using tools to capture and analyse social media data. Wasim is a keen Twitter user (@was3210) and will be happy to answer any questions you may have.
Articles by Wasim Ahmed:
---

My Favourite Tipples from a Twitter research expert
Thursday, 17th November 2016
My Favourite Tipples are shared by Wasim Ahmed, a social media researcher and consultant who shares his favourite sources in the area of social listening, Twitter and analysis.
What's new at Jinfo?
Jinfo Overview - August 2021
View on YouTube
---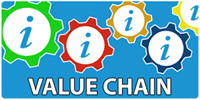 Five newly recorded webinars on how to complete the activities in our Focus on Value Chain now available.
---
Express value the way stakeholders do with Value Chain analysis
"I can now sit in a meeting with my stakeholders and articulate the role information plays in their workflows. They understand our contribution to their success." Information Senior Scientist, heavy manufacturing industry
---
With Jinfo Consulting, you get accountability, fine-tuned guidance and industry-wide perspective.