Arthur Robbins

Arthur Robbins is library and information centre manager at Roche, a pharmaceutical company based in Welwyn Garden City. He has a particular interest in digitisation, virtual libraries, information seeking behaviour and online repositories although he still has a "soft spot" for more traditional library skills and works on collection development and stock audits, information enquiries and cataloguing in his current role. Arthur also worked in the public libraries sector before moving into corporate life in 2014.
Articles by Arthur Robbins:
---

Chatbot software in a pharmaceutical company
Monday, 26th November 2018
How can the pharmaceutical industry implement chatbots? This article looks at one company's experience of working through and implementing a chatbot to handle medical information enquiries and discusses some of the issues to consider, such as partnering, regulatory considerations, implementation and lessons learned.
---

Top hacks for gaining greater visibility for information skills
Friday, 24th February 2017
Libraries offer great resources but they are only useful if users are aware of them. Furthermore, it can be difficult to promote resources to non-library users. The library and information centre at Roche Products Limited sought to resolve this problem with The Library Channel, which hosts a series of short videos. Read how these videos positively impacted their online presence as well as increasing library visits and face-to-face enquiries.
---

My Favourite Tipples from a pharma information centre manager
Wednesday, 14th December 2016
My Favourite Tipples are shared by Arthur Robbins, the library and information centre manager at the Roche offices in Hertfordshire. In the ever-changing pharmaceutical industry, library and information professionals must stay a step ahead to enable their users to innovate. He shares his favourite online resources in areas from video to collaboration.
What's new at Jinfo?
Jinfo Overview - August 2021
View on YouTube
---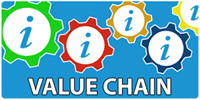 Five newly recorded webinars on how to complete the activities in our Focus on Value Chain now available.
---
Express value the way stakeholders do with Value Chain analysis
"I can now sit in a meeting with my stakeholders and articulate the role information plays in their workflows. They understand our contribution to their success." Information Senior Scientist, heavy manufacturing industry
---
With Jinfo Consulting, you get accountability, fine-tuned guidance and industry-wide perspective.