Leigh Walters

Managing director, Priory Solutions (a TRG company).
Leigh is responsible for the overall performance of the company, including business strategy, general operations and revenue growth. Having spent many years in the technology and financial service industries, he has broad experience working in multiple business functions, ranging from finance and product management through to sales. Outside of work, he enjoys global travel, having lived and worked in both the UK and US, and can be found coaching junior rugby at the weekends.
He can be contacted on LinkedIn.
Articles by Leigh Walters:
---

My Favourite Tipples from a business growth expert
Wednesday, 10th May 2017
My Favourite Tipples are shared by Leigh Walters, managing director of Priory Solutions, whose products include ResearchMonitor, Quest and SmartRecharge. He shares his favourite online tools from legal news to travel tips.
What's new at Jinfo?
Jinfo Overview - August 2021
View on YouTube
---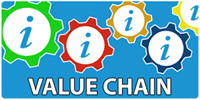 Five newly recorded webinars on how to complete the activities in our Focus on Value Chain now available.
---
Express value the way stakeholders do with Value Chain analysis
"I can now sit in a meeting with my stakeholders and articulate the role information plays in their workflows. They understand our contribution to their success." Information Senior Scientist, heavy manufacturing industry
---
With Jinfo Consulting, you get accountability, fine-tuned guidance and industry-wide perspective.