Pete Read

Pete Read is a business research and advisory consultant specialising in China, Asia and other emerging market regions, who has led hundreds of assignments for some of the world"s most successful companies. He has lived and worked in Singapore, Hong Kong and the UK, and works on research-based consulting in the areas of growth strategy, competitive strategies, marketing strategies, inward investment, partnering and M&A, mainly in healthcare, technology, industrial and financial sectors. Pete was educated at the University of London and volunteers as a director of the West of England China Bureau. Contact him via email to info@ggmkts.com, WeChat ID readpete or LinkedIn.
Articles by Pete Read:
---

My Favourite Tipples from a growth market expert
Wednesday, 5th July 2017
My Favourite Tipples are shared by Pete Read, CEO of Global Growth Markets, a business research and advisory firm specialising in emerging markets. He shares his favourite online go-to resources for rapid access to key information.
What's new at Jinfo?
Jinfo Overview - August 2021
View on YouTube
---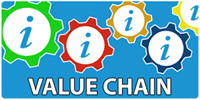 Five newly recorded webinars on how to complete the activities in our Focus on Value Chain now available.
---
Express value the way stakeholders do with Value Chain analysis
"I can now sit in a meeting with my stakeholders and articulate the role information plays in their workflows. They understand our contribution to their success." Information Senior Scientist, heavy manufacturing industry
---
With Jinfo Consulting, you get accountability, fine-tuned guidance and industry-wide perspective.