Cerys Hearsey

Cerys is Post*Shift"s lead consultant on technology-enabled organisation design. She currently teaches executives and change agents at large enterprises on the methods of enabling agile, distributed change. She also undertakes primary research into digital strategy and the barriers to digital transformation through internet of things, digital engineering initiatives and the future of organisations.
Before joining Post*Shift, Cerys was an independent consultant for 10 years implementing knowledge and information systems. Cerys is happiest at work when armed with sticky notes and a kanban board. Outside of work, she enjoys diving on WWII vessels around UK waters. She can be found on LinkedIn at https://www.linkedin.com/in/ceryshearsey/
Articles by Cerys Hearsey:
---

How will artificial intelligence alter current awareness?
Monday, 21st August 2017
Over the past year, the topic of artificial intelligence (AI) and the future of work has become a political hot potato. Everyone knows that changes are coming, but very few people can anticipate the full impact and extent of those changes. The information profession is poised to undergo significant transformation, and the future of current awareness could look very different. In this article, Cerys Hearsey explores the potential changes and focuses on where the profession can add the most value, whilst building a new AI-powered service.
What's new at Jinfo?
Jinfo Overview - August 2021
View on YouTube
---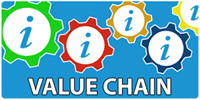 Five newly recorded webinars on how to complete the activities in our Focus on Value Chain now available.
---
Express value the way stakeholders do with Value Chain analysis
"I can now sit in a meeting with my stakeholders and articulate the role information plays in their workflows. They understand our contribution to their success." Information Senior Scientist, heavy manufacturing industry
---
With Jinfo Consulting, you get accountability, fine-tuned guidance and industry-wide perspective.