John Orosa

John Orosa has over 30 years business management experience. Throughout his career, he has worked closely with a wide range of global companies to deliver value through innovative online information search products and solutions. John spent 16 years at Reuters and currently heads up editorial and categorisation at a leading technology services company. As well as extensive experience in the commercial world, he has also worked in the not-for-profit charitable sector. John is passionate about making knowledge of sustainable living traditions available to the widest possible audience via the Memory Seedbank. He has also received a government grant to investigate pre-editing systems for machine translation.
Articles by John Orosa:
---

What will information management look like in 10 years?
Thursday, 8th March 2018
The traditional view of information management as the acquisition, organisation and distribution of information is gradually changing and information managers will increasingly have to deal with unpredictability in their work. This article suggests that information managers will become curators of information and arrangers of knowledge in context and looks at ways they can mitigate the growing complexity.
---

What's the point of data analytics?
Wednesday, 22nd November 2017
Data analytics helps organisations make appropriate business decisions. Data is stored and analysed to study a range of commercial and operational subjects, which can help with targeted advertising and alignment of content and layout. However, many businesses, particularly smaller companies, have no data analytics strategy. In this article, John Orosa looks at the five phases of data development an organisation will typically go through, gives some practical examples of the application of data analytics, and offers some tips on developing a data analytics strategy within your organisation.
What's new at Jinfo?
Jinfo Overview - August 2021
View on YouTube
---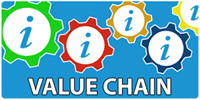 Five newly recorded webinars on how to complete the activities in our Focus on Value Chain now available.
---
Express value the way stakeholders do with Value Chain analysis
"I can now sit in a meeting with my stakeholders and articulate the role information plays in their workflows. They understand our contribution to their success." Information Senior Scientist, heavy manufacturing industry
---
With Jinfo Consulting, you get accountability, fine-tuned guidance and industry-wide perspective.