Barbara Reissland

Barbara Reissland spent 12 years in information centres in the pharmaceutical industry before setting up her own business in 2009. She is now a consultant, project manager and trainer. She is frequently organising conferences for the Pharma Working Group for Information & Documentation (PAID.de) and the German Association of Information Professionals (DGI). Barbara has a Master"s degree in Political Sciences and English Literature from the Philipps University of Marburg, as well as a Master in Information and Knowledge Management from the University of Hannover.
Articles by Barbara Reissland:
---

How to optimise resources and influence your content budget
Friday, 15th June 2018
In larger organisations, one of the most significant budget items for an information centre is external content. This is a largely misunderstood cost as many perceive digital content to be cheaper than print. In this article Barbara Reissland takes a look at how to prove the ROI and value of externally published content as a resource, through elements such as usage statistics and other metrics.
---

Innovation and development at UCB
Monday, 19th March 2018
UCB's Scientific Information Service (SIS) held a Futures conference in 2017 for its users and select vendors to explore emerging ideas and technologies in the areas of content access and procurement. The conference was invitation-only, to make it more compelling for users to attend and keep it to a manageable size. It consisted of an introductory keynote, break-out sessions and short presentations covering relevant topics and this article looks at what was learnt as well as offering some practical next steps to help your organisation if wanting to plan a similar conference.
What's new at Jinfo?
Jinfo Overview - August 2021
View on YouTube
---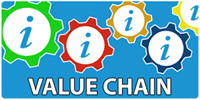 Five newly recorded webinars on how to complete the activities in our Focus on Value Chain now available.
---
Express value the way stakeholders do with Value Chain analysis
"I can now sit in a meeting with my stakeholders and articulate the role information plays in their workflows. They understand our contribution to their success." Information Senior Scientist, heavy manufacturing industry
---
With Jinfo Consulting, you get accountability, fine-tuned guidance and industry-wide perspective.