Paul Taylor

Paul is a freelance contractor focused on change management, with 30 years" experience. He has worked on various projects such as operating model design, product design, outsourcing and business change technology and regulatory issues across a wide variety of businesses such as financial services, oil/gas, charities and professional bodies. Paul has also provided consultants to various startups and he is a director for two of these firms. He has chaired a number of industry bodies and has also worked for various trade bodies, writing course materials. Paul obtained an MBA from the Open University in 1999.
Articles by Paul Taylor:
---

My Favourite Tipples from a change management specialist
Wednesday, 11th July 2018
My Favourite Tipples are shared by Paul Taylor, who is a speaker and author on topics such as technology, freelancing and change management. He is also a change management consultant, chair and non-executive director and mentor. He shares some of his go-to resources to keep on top of a broad range of topics.
What's new at Jinfo?
Jinfo Overview - August 2021
View on YouTube
---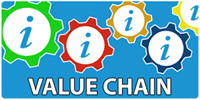 Five newly recorded webinars on how to complete the activities in our Focus on Value Chain now available.
---
Express value the way stakeholders do with Value Chain analysis
"I can now sit in a meeting with my stakeholders and articulate the role information plays in their workflows. They understand our contribution to their success." Information Senior Scientist, heavy manufacturing industry
---
With Jinfo Consulting, you get accountability, fine-tuned guidance and industry-wide perspective.