Karina Fabian

Karina Fabian is the marketing communications specialist for NEWSCYCLE Solutions, a provider of premium software technology that empowers the global media industry. Her primary duties include marketing and content writing and social media management. She"s the author of 16 books in the science fiction, fantasy and comedic horror genres. Karina is the founder and former president of the Catholic Writers" Guild and coordinator of their annual online writing conference. She lives in Florida with her husband and two of their four children. She enjoys the warm weather, jet-skiing when she can, and watching rocket launches from her backyard. Her personal website is http://fabianspace.com.
Articles by Karina Fabian:
---

My Favourite Tipples from a social media manager
Wednesday, 8th August 2018
My Favourite Tipples are shared by Karina Fabian, content writer and content marketing specialist at NEWSCYCLE Solutions. She shares some of her go-to tools for keeping on top of new apps, managing a variety of social media platforms and scheduling posts, and chatroom software.
What's new at Jinfo?
Jinfo Overview - August 2021
View on YouTube
---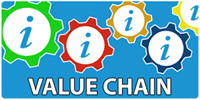 Five newly recorded webinars on how to complete the activities in our Focus on Value Chain now available.
---
Express value the way stakeholders do with Value Chain analysis
"I can now sit in a meeting with my stakeholders and articulate the role information plays in their workflows. They understand our contribution to their success." Information Senior Scientist, heavy manufacturing industry
---
With Jinfo Consulting, you get accountability, fine-tuned guidance and industry-wide perspective.