Michael Moore

Michael is an experienced knowledge management specialist with a systems thinking perspective, collaborating with cross-functional teams to transform business needs, user feedback, and analytics into actionable plans and implemented knowledge management products. He has worked in the knowledge management industry for two decades, and currently works as a governance analyst at First San Francisco Partners, helping to make information actionable. Michael has a Master"s Degree in Library and Information Science from Dominican University (Illinois), and previously worked for the MITRE Corporation, helping systems engineers share their knowledge across the company and around the world. He can be contacted on LinkedIn.
Articles by Michael Moore:
---

Leadership alignment interviews - engaging your stakeholders around value
Wednesday, 26th June 2019
Communicating the value of information services to budget holders and decision-makers is challenging. One way to enhance that communication is to interview leaders in your organisation to show where their ideas align, and where there may be gaps or misalignment. This article looks at how to shape leadership alignment interviews to deepen your engagement with stakeholders, to increase your understanding of their thoughts on value, and to build their buy-in for strategic efforts.
What's new at Jinfo?
Jinfo Overview - August 2021
View on YouTube
---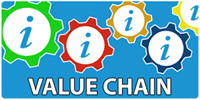 Five newly recorded webinars on how to complete the activities in our Focus on Value Chain now available.
---
Express value the way stakeholders do with Value Chain analysis
"I can now sit in a meeting with my stakeholders and articulate the role information plays in their workflows. They understand our contribution to their success." Information Senior Scientist, heavy manufacturing industry
---
With Jinfo Consulting, you get accountability, fine-tuned guidance and industry-wide perspective.