18th October 2022

Description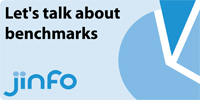 The challenges on global organisations to successfully manage the ever increasing demand for new information and optimise costs, has never been greater.
Understanding how and why your own organisation compares to its peers is often very difficult without having access to a large network of industry professionals who are willing to share.
Due to increasing client demand, Jinfo is working with a number of customers to benchmark their service, including analyses on operational structure, supplier costs, human capital and location strategy.
This Community session was an opportunity to share insights on benchmarking, learn how benchmarks can inform decision making and contract negotiations, and turbocharge understanding of how colleagues compared with their peers.
View the article, "The importance of Benchmarking", to review the anonymised notes from our discussion and catch up on what you missed or reflect on what you heard.
Community Registration
Access to Jinfo Content and Community is available through a Jinfo Subscription.
Does your organisation have a Jinfo Subscription?
"Not yet"
Access to this Community session is available through a Jinfo Subscription, which will help your organisation:
Save time and money
Re-invent information services
Define, measure and communicate information value.
---
"Don't know"
Please complete the Registration Enquiry form below and we will check if your organisation has access and contact you to confirm either way.
---
"Don't know"
Contact us to find out if your organisation already has a Jinfo Subscription.

Or use the 'Text Chat' button at the bottom-right of this page for immediate assistance.
About this Event
Community event title: Let's talk about benchmarks

Related articles:
What's new at Jinfo?
[New] Contribute to the news and current awareness survey 2023
Community session – Initial findings from the News and Current Awareness Survey
20th June 2023
Community dates
---
"Vendor management template, news and current awareness survey, AI"
3rd May 2023
Check out our new vendor management template and contribute to our latest survey on the provision of news and current awareness services. Come along to our next Community session to discuss the impact of AI and get some great tips for managing up from our April session.
Read on the Blog