Let's talk about benchmarks
Jinfo Event
18th October 2022

Description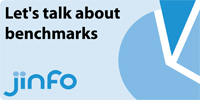 The challenges on global organisations to successfully manage the ever increasing demand for new information and optimise costs, has never been greater.
Understanding how and why your own organisation compares to its peers is often very difficult without having access to a large network of industry professionals who are willing to share.
Due to increasing client demand, Jinfo is working with a number of customers to benchmark their service, including analyses on operational structure, supplier costs, human capital and location strategy.
This Community session is an opportunity to share your insights on benchmarking, learn how benchmarks can inform decision making and contract negotiations, and turbocharge your understanding of how you compare to your peers.
Please join Jinfo and your colleagues on 18th October for our "Let's talk about Benchmarking" Community session.
Spaces are limited. Use the form below to register your interest as soon as possible.
Date:
Tuesday, 18th October 2022 at 08:00 Pacific / 10:00 Central / 11:00 Eastern / 16:00 (BST) / 17:00 Europe, 60 minutes
Community Registration
Access to Jinfo Content and Community is available to Jinfo clients.
Is your organisation a Jinfo client?
"Yes"
Please sign in here so that we can check your access to this Community session and provide easier registration (recommended)


Or complete the Registration Enquiry form below and we will check your access and register you for this Community session.
"Not yet"
Learn more about becoming a Jinfo client

"Don't know"
Please complete the Registration Enquiry form below and we will check if your organisation has access and contact you to confirm either way.
About this Event
Community event title: Let's talk about benchmarks
What's new at Jinfo?
Upcoming Community sessions
---
"Is the client always right?"
21st September 2022
Whilst user expressions of value are important, they should be treated with caution. Information leaders can offer significant value by enabling smart decisions about information products and services. Realising this potential hinges on your ability to frame the question and offer potential solutions that serve the best interests of your organisation.
Read on the Blog