Building competitive advantage
Jinfo Event
9th February 2023

[Focus: Competitive intelligence]
Description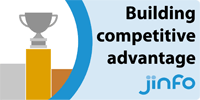 Competitive Intelligence (CI) is important – it helps businesses understand their competitive environment, the opportunities and challenges. As such, it directly impacts an organisation's revenues, profitability and risk.
In the wake of the health crisis, Information Leaders need to demonstrate their credentials to develop, deliver or directly support this critical function.
During this session we will discuss and explore:
The role of information leaders in competitive and business intelligence research
The opportunities for Information Leaders to develop or expand their CI capabilities
The challenges of information overload and proactive strategies to enhance CI without overwhelming the wider team.
Denise Carter, our CI specialist, will join us to inform our discussion. Over the course of her career, Denise has built a wealth of experience implementing and delivering CI for various clients in healthcare and a number of other industries.
Community sessions are for Jinfo clients and spaces are limited.
Please use the form below to register your interest as soon as possible.
Then provide your priorities for this discussion using this link to our poll.
If you are unable to access the poll, contact us or reply to support@jinfo.com with your responses to the following questions:
What is your role in supporting/delivering competitive intelligence research?
What opportunities are you exploring to develop or expand your CI capabilities?
What challenges do you face in developing your CI services?
What other questions do you have for the Community about CI strategy?
Any other comments? (e.g. ideas for this or future sessions)
Date
Thursday, 9th February 2023 at 08:00 Pacific / 10:00 Central / 11:00 Eastern / 16:00 (GMT) / 17:00 Europe, 60 minutes.
Community Registration
Access to Jinfo Content and Community is available to Jinfo clients.
Is your organisation a Jinfo client?
"Yes"
Please sign in here so that we can check your access to this Community session and provide easier registration (recommended)


Or complete the Registration Enquiry form below and we will check your access and register you for this Community session.
"Not yet"
Learn more about becoming a Jinfo client

"Don't know"
Please complete the Registration Enquiry form below and we will check if your organisation has access and contact you to confirm either way.
About this Event
Community event title: Building competitive advantage
What's new at Jinfo?
Building competitive advantage
9th February 2023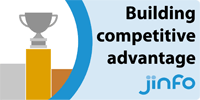 Community dates
---
[New] The Jinfo Subscription is back by popular demand!
---
"Happy anniversary Jinfo, née FreePint"
4th January 2023
25 years, 600 editions, 500 contributors. Jinfo has come a long way, and so has the value of information work. However, information leaders still need to win the war for talent, hold vendors to account, and keep an eye on competitors.
Read on the Blog