Let's talk about managing up
Jinfo Event
20th April 2023

Description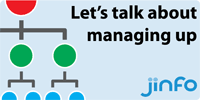 We often talk about Stakeholder Engagement in terms of working with senior clients and budget holders; but managing your own manager is another vital facet of your work.
Having a healthy, positive relationship with your manager makes work life both productive and rewarding. But it can be difficult. Senior leaders often have limited empathy for your work, their immediate priorities may not reflect your longer term strategy and reporting structures can change frequently.
We will use this session to share and explore top tips for information leaders to work successfully with their managers.
We will be joined by Jeffrey Voight (Global Head of Facilities Services at Willis Towers Watson). Jeff will provide his invaluable perspective as a senior corporate leader, having managed many different operational teams, including Information Services.
Community sessions are for Jinfo clients only, and spaces are limited.
Please register as soon as possible using the form below.
Date
Thursday, 20th April 2023 at 08:00 Pacific / 10:00 Central / 11:00 Eastern / 16:00 (BST) / 17:00 Europe, 60 minutes.
Community Registration
Access to Jinfo Content and Community is available to Jinfo clients.
Is your organisation a Jinfo client?
"Yes"
Please sign in here so that we can check your access to this Community session and provide easier registration (recommended)


Or complete the Registration Enquiry form below and we will check your access and register you for this Community session.
"Not yet"
Learn more about becoming a Jinfo client

"Don't know"
Please complete the Registration Enquiry form below and we will check if your organisation has access and contact you to confirm either way.
About this Event
Community event title: Let's talk about managing up
What's new at Jinfo?
Let's talk about managing up
20th April 2023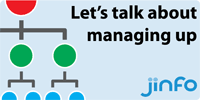 Community dates
---
[New] The Jinfo Subscription is back by popular demand!
---
"The goalposts keep moving..."
1st March 2023
Corporate belt-tightening continues and we are all being asked to do "more with less". But how practical is it to maintain service levels with diminishing resources? Before the straw breaks the proverbial camel's back, how do information leaders proactively manage stakeholders' expectations and resist the urge to "make do and mend" when budgets are tight?
Read on the Blog