20th April 2023

Description
View the article, "Top tips for managing up", to review the anonymised notes from our discussion and catch up on what you missed or reflect on what you heard.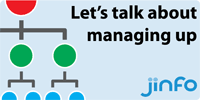 We often talk about Stakeholder Engagement in terms of working with senior clients and budget holders; but managing your own manager is another vital facet of your work.
Having a healthy, positive relationship with your manager makes work life both productive and rewarding. But it can be difficult. Senior leaders often have limited empathy for your work, their immediate priorities may not reflect your longer term strategy and reporting structures can change frequently.
We used this session to share and explore top tips for information leaders to work successfully with their managers.
We were joined by Jeffrey Voight (Global Head of Facilities Services at Willis Towers Watson). Jeff provided his invaluable perspective as a senior corporate leader, having managed many different operational teams, including Information Services.
Community Registration
Access to Jinfo Content and Community is available through a Jinfo Subscription.
Does your organisation have a Jinfo Subscription?
"Not yet"
Access to this Community session is available through a Jinfo Subscription, which will help your organisation:
Save time and money
Re-invent information services
Define, measure and communicate information value.
---
"Don't know"
Please complete the Registration Enquiry form below and we will check if your organisation has access and contact you to confirm either way.
---
"Don't know"
Contact us to find out if your organisation already has a Jinfo Subscription.

Or use the 'Text Chat' button at the bottom-right of this page for immediate assistance.
About this Event
Community event title: Let's talk about managing up

Related articles:
What's new at Jinfo?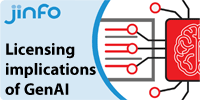 Community session: Legal implications of licensing third party content for GenAI
24th October 2023
Community dates
---
"Talent management, legal news cut, generative AI developments and new products"
5th September 2023
Learn about the vital role of nurturing the talent pipeline and succession. There's now a legal cut of our news and current awareness survey. And a real need for information managers to assert themselves to maximise the value of generative AI and mitigate the risks.
Read on the Blog