Impact of artificial intelligence
Jinfo Community
23rd May 2023

Description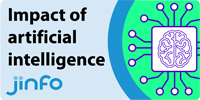 Artificial intelligence (AI), and more specifically generative AI, has well and truly arrived, with ChatGPT and Google Bard being the best known examples of an emerging cohort of products.
But it is not without controversy, with some organisations and countries banning it, and leading technologists calling for a pause on further development.
Recently released reports estimate that 25% of all jobs could be automated, impacting over 300 million workers across the developed world. But those reports also recognise that people will move into other (yet to be identified) roles that AI cannot fulfil.
Having discussed the potential impact with Jinfo's clients, colleagues and suppliers, there are a wide range of reactions and perspectives on AI's role and ramifications for the business information industry.
One thing everyone agrees on is the need to be part of the discussion about the potential benefits and pitfalls of this technology within their organisation, and the information industry as a whole.
Our May Community session will provide an opportunity to discuss these developments and consider how information teams can contribute to the wider conversation.
Community sessions are for Jinfo clients and spaces are limited.
Complete our quick poll and tell us what you'd like to get out of the session.
Please register as soon as possible to secure your place.
Date:
Tuesday, 23rd May 2023 at 08:00 Pacific / 10:00 Central / 11:00 Eastern / 16:00 (BST) / 17:00 Europe, 60 minutes.
Community Registration
Access to Jinfo Content and Community is available through a Jinfo Subscription.
Does your organisation have a Jinfo Subscription?
"Not yet"
Access to this Community session is available through a Jinfo Subscription, which will help your organisation:
Save time and money
Re-invent information services
Define, measure and communicate information value.
---
"Don't know"
Please complete the Registration Enquiry form below and we will check if your organisation has access and contact you to confirm either way.
---
"Don't know"
Contact us to find out if your organisation already has a Jinfo Subscription.

Or use the 'Text Chat' button at the bottom-right of this page for immediate assistance.
About this Event
Community event title: Impact of artificial intelligence
What's new at Jinfo?
[New] Contribute to the news and current awareness survey 2023
Community session – Initial findings from the News and Current Awareness Survey
20th June 2023
Community dates
---
"Vendor management template, news and current awareness survey, AI"
3rd May 2023
Check out our new vendor management template and contribute to our latest survey on the provision of news and current awareness services. Come along to our next Community session to discuss the impact of AI and get some great tips for managing up from our April session.
Read on the Blog