Legal implications of licensing third party content for GenAI
Jinfo Community
24th October 2023

Description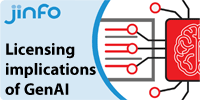 Legal and regulatory frameworks are desperately trying to keep pace with GenAI. With all this uncertainty, what do you need to be mindful of when using third party content with GenAI technologies?
Jeff Monassebian is the founder and managing attorney at Technology Practice Group LLC, and has over 40 years of specialised expertise advising major corporations on licensing third party content and data.
Jeff will share his views and insights on what he calls the "bleeding edge" of this challenging issue, covering copyright, intellectual property rights and ownership of GenAI inputs and outputs, confidentiality, and the implications for privacy and Personal Identifiable Information (PII).
Community sessions are available to clients with a Jinfo Subscription, and spaces are limited. Register below now to avoid disappointment.
Date:
Tuesday, 24th October 2023 at 08:00 Pacific / 10:00 Central / 11:00 Eastern / 16:00 (BST) / 17:00 Europe, 60 minutes.
Community Registration
Access to Jinfo Content and Community is available through a Jinfo Subscription.
Does your organisation have a Jinfo Subscription?
"Not yet"
Access to this Community session is available through a Jinfo Subscription, which will help your organisation:
Save time and money
Re-invent information services
Define, measure and communicate information value.
---
"Don't know"
Please complete the Registration Enquiry form below and we will check if your organisation has access and contact you to confirm either way.
---
"Don't know"
Contact us to find out if your organisation already has a Jinfo Subscription.

Or use the 'Text Chat' button at the bottom-right of this page for immediate assistance.
About this Event
Community event title: Legal implications of licensing third party content for GenAI
What's new at Jinfo?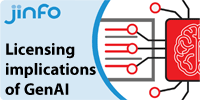 Community session: Legal implications of licensing third party content for GenAI
24th October 2023
Community dates
---
"Talent management, legal news cut, generative AI developments and new products"
5th September 2023
Learn about the vital role of nurturing the talent pipeline and succession. There's now a legal cut of our news and current awareness survey. And a real need for information managers to assert themselves to maximise the value of generative AI and mitigate the risks.
Read on the Blog