Step 2 activity – Creating your Validation Plan
Jinfo Report
7th April 2022
Abstract
Following review of the recorded webinar, "Validating your hypothesis," use the guidance and examples in this report to create a comprehensive plan for validating your hypothesis on the value of information products, services and expertise to your organisation's goals.
Together, the webinar and this activity form "Step 2 – Validation" in Jinfo's Focus on Value Chain – an innovative methodology for tying information products, services and expertise to realised impact on business goals.
Content Access
Access to Jinfo Content and Community is available through a Jinfo Subscription.
Does your organisation have a Jinfo Subscription?
"Not yet"
Access to this report is available through a Jinfo Subscription, which will help your organisation:
Save time and money
Re-invent information services
Define, measure and communicate information value.
---
"Don't know"
Contact us to find out if your organisation already has a Jinfo Subscription.

Or use the 'Text Chat' button at the bottom-right of this page for immediate assistance.
About this report
Report title: Step 2 activity – Creating your Validation Plan
Pages: 12
What's new at Jinfo?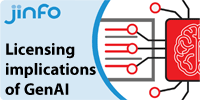 Community session: Legal implications of licensing third party content for GenAI
24th October 2023
Community dates
---
"Talent management, legal news cut, generative AI developments and new products"
5th September 2023
Learn about the vital role of nurturing the talent pipeline and succession. There's now a legal cut of our news and current awareness survey. And a real need for information managers to assert themselves to maximise the value of generative AI and mitigate the risks.
Read on the Blog