News and current awareness survey 2023
Jinfo Report
25th July 2023
Abstract
News and current awareness continue to be a core service for most information management and research teams.
Jinfo surveyed the market preferences in relation to news aggregation services and current awareness every year between 2007 and 2020.
This 2023 survey brings the results up-to-date, and reveals how news and current awareness capabilities have evolved over the last three years.
The report includes analysis and overview in six chapters:
Part 1 - introduction
Part 2 - perceptions of value
Part 3 - information team resources
Part 4 - system components
Part 5 - supplier satisfaction
Part 6 - appetite for change.
In addition to the commentary on the results, we have added analysis to help interpret the data.
We have also appended some suggested actions for both information managers and supplier partners to get the most value from the data.


Content Access
Access to Jinfo Content and Community is available through a Jinfo Subscription.
Does your organisation have a Jinfo Subscription?
"Not yet"
Access to this report is available through a Jinfo Subscription, which will help your organisation:
Save time and money
Re-invent information services
Define, measure and communicate information value.
---
"Don't know"
Contact us to find out if your organisation already has a Jinfo Subscription.

Or use the 'Text Chat' button at the bottom-right of this page for immediate assistance.
About this report
Report title: News and current awareness survey 2023
Pages: 34

Related reports:
What's new at Jinfo?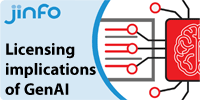 Community session: Legal implications of licensing third party content for GenAI
24th October 2023
Community dates
---
"Talent management, legal news cut, generative AI developments and new products"
5th September 2023
Learn about the vital role of nurturing the talent pipeline and succession. There's now a legal cut of our news and current awareness survey. And a real need for information managers to assert themselves to maximise the value of generative AI and mitigate the risks.
Read on the Blog