Scorecards - designing and documenting scoring systems
Jinfo Webinar
20th April 2021
[Focus: Content Portfolio]
Description
Useful scorecards for product evaluation, stakeholder communication and negotiation support include the components you care about and reflect a scoring system that makes sense to you.
In this webinar, Jinfo's Director of Research Robin Neidorf walked through the activities we designed to enable you to tackle this stage of the scorecard development process.
To get the most out of this recording, first review these articles from the "Scorecards" section of Jinfo's Focus on Content Portfolio:
After reviewing this recording, you'll have further insight into the questions you need to answer about your scoring criteria in order to develop your scorecards.
Webinar Recording and/or Slide Deck
This event has passed, and a recording and/or slide deck is available for customers with a Jinfo Subscription.
If you have a Jinfo Subscription, please sign in here so that we can check your account:
If you are considering purchasing a Jinfo Subscription and would like to request guest access to view the recording, please contact us.
About this Webinar
Webinar title: Scorecards - designing and documenting scoring systems
What's new at Jinfo?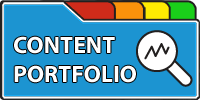 Latest in this Focus: Scorecards. Use Jinfo's step-by-step methodology to craft scorecards to strengthen negotiations, communicate with stakeholders, compare value of products and manage your portfolio more strategically.
---
What's your priority?
Use our self-assessment worksheet to determine your pathway towards more strategic portfolio management: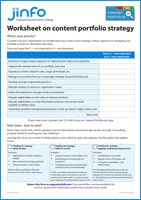 ---
A Jinfo Subscription gets you access to activity-based content to move your projects forward, plus dynamic peer group discussions on meaty topics.