Centre of Excellence (step four - assess your team's characteristics)
Jinfo Webinar
22nd June 2021
[Focus: Centre of Excellence]
Description
Managing the Information Centre of Excellence means identifying your team's strengths and weaknesses within the six characteristics that drive success.
In this webinar, we'll walk through how to complete a self-assessment of how these characteristics are present within your team, as well as how to develop them further on a continuous basis.
To get the most out of this recording, review this article from our Focus on Centre of Excellence:
After viewing this recording, you'll be able to complete the activity to self-assess your strengths and create a plan for continuous improvement.
If you want tailored guidance from Jinfo's experienced analysts, contact us about Consulting on Centre of Excellence today.
Webinar Recording and/or Slide Deck
This event has passed, and a recording and/or slide deck is available through a Jinfo Subscription.
Does your organisation have a Jinfo Subscription? Please sign in here so that we can check your account:
"Not yet"
Access to this recorded webinar is available through a Jinfo Subscription, which will help your organisation:
Save time and money
Re-invent information services
Define, measure and communicate information value.
---
"Don't know"
Contact us to find out if your organisation already has a Jinfo Subscription.

Or use the 'Text Chat' button at the bottom-right of this page for immediate assistance.
About this Webinar
Webinar title: Centre of Excellence (step four - assess your team's characteristics)

Related articles:
What's new at Jinfo?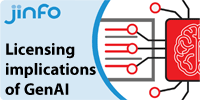 Community session: Legal implications of licensing third party content for GenAI
24th October 2023
Community dates
---
"Talent management, legal news cut, generative AI developments and new products"
5th September 2023
Learn about the vital role of nurturing the talent pipeline and succession. There's now a legal cut of our news and current awareness survey. And a real need for information managers to assert themselves to maximise the value of generative AI and mitigate the risks.
Read on the Blog