Value Chain (step one - defining success through the Value Chain)
Jinfo Webinar
26th August 2021
[Focus: Value Chain]
Description
To demonstrate value, you have to be able to describe what "value" actually means. This starts with understanding the goals of the organisation, and then making the case for how you contribute to that goal and organisational success.
By defining success through the value chain, you will be able to:
Clearly define the goals of your organisation
Explain the characteristics that drive success for each goal
Understand what your stakeholders need to contribute to that success.
In this webinar, we will walk through the activity Jinfo has designed to define what value means for your organisation as a whole.
To get the most out of this recording, review this article from our Focus on Value Chain:
Viewing this recording alongside the activity will enable you to describe in more detail what constitutes success, so that later you can set tangible KPIs against which to measure value.
To work with tailored guidance from Jinfo's experienced analysts, contact us about Consulting on Value Chain today.
Webinar Recording and/or Slide Deck
This event has passed, and a recording and/or slide deck is available for Jinfo clients.
If you are a client, please sign in here so that we can check your account:
About this Webinar
Webinar title: Value Chain (step one - defining success through the Value Chain)

Related articles:
What's new at Jinfo?
Building competitive advantage
9th February 2023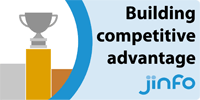 Community dates
---
[New] The Jinfo Subscription is back by popular demand!
---
"Happy anniversary Jinfo, née FreePint"
4th January 2023
25 years, 600 editions, 500 contributors. Jinfo has come a long way, and so has the value of information work. However, information leaders still need to win the war for talent, hold vendors to account, and keep an eye on competitors.
Read on the Blog