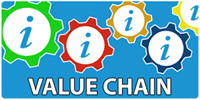 Show how informations services and investments contribute to efficiency, innovation, and generating revenue for your organisation.
Through Consulting on Value Chain, you will work with a Jinfo analyst to
Analyse the steps in the "chain" that bring the most value
Articulate your contribution to each step in that chain
Develop the data and language to communicate your value to stakeholders and suppliers
Through Consulting on Value Chain, solve the age old problem of demonstrating ROI.
How it works
Jinfo will design a tailored consulting project for you, including:
Your confidential online learning environment with hand-selected activities, guidance and templates
A schedule of online workshops for completing activities
Final written recommendations for priorities, next steps and further support.
Also consider

"I'm Robin Neidorf, Director of Research for Jinfo.
You can advance your information strategy with the practical activities and research insights in Jinfo's Focus areas when you become a client.
Contact me to discuss your unique needs, and we can map our methods and experience to address your opportunities and challenges".
Jinfo's Consulting on Value Chain enhances the resources available in the Focus on Value Chain.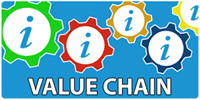 Testimonial
"I can now sit in a meeting with my stakeholders and articulate the role information plays in their workflows. They understand our contribution to their success."
Information Senior Scientist, heavy manufacturing industry
Benefits of Jinfo Consulting
Accountability: There's nothing like a deadline to ensure you make time for a well-defined activity
Fine-tuned guidance: During and after your assessment, you'll have discussion, coaching and feedback specific to your needs and environment
Industry-wide perspective: Your analyst brings insights we've gained through all the other information teams we've worked with.