Value Chain (step two - how well do you know the Value Chain?)
Jinfo Webinar
26th August 2021
[Focus: Value Chain]
Description
Most information teams know more than they may realise about their users and what they are trying to accomplish. But there is nothing like first-hand information from the people you support.
The next activity is to conduct research with your users to test your assumptions about their workflows and what they value, so that you can:
Validate your hypotheses about the components of success
Fill in your knowledge about how your audiences act, think and operate
Get the overview of accomplishment that all relevant teams are working towards.
In this webinar, we will walk through the activity Jinfo has designed to work with your stakeholders to complete your view of the Value Chain.
To get the most out of this recording, review this article from our Focus on Value Chain:
Viewing this recording alongside the activity will enable you to continue the process of analysing your Value Chain.
To work with tailored guidance from Jinfo's experienced analysts, contact us about Consulting on Value Chain today.
Webinar Recording and/or Slide Deck
This event has passed, and a recording and/or slide deck is available for customers with access to Content and Community.
If you are a client, please sign in here so that we can check your account:
About this Webinar
Webinar title: Value Chain (step two - how well do you know the Value Chain?)

Related articles:
What's new at Jinfo?
Jinfo Overview - August 2021
View on YouTube
---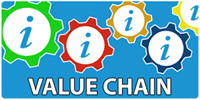 Five newly recorded webinars on how to complete the activities in our Focus on Value Chain now available.
---
Express value the way stakeholders do with Value Chain analysis
"I can now sit in a meeting with my stakeholders and articulate the role information plays in their workflows. They understand our contribution to their success." Information Senior Scientist, heavy manufacturing industry
---
With Jinfo Consulting, you get accountability, fine-tuned guidance and industry-wide perspective.