Value Chain (step three - your contributions to the Value Chain)
Jinfo Webinar
27th August 2021
[Focus: Value Chain]
Description
Once you have defined the Value Chain for your organisation and the role information plays in it, it's time to describe how you and your team tangibly contribute to business goals such as efficiency, innovation, and risk management.
Document how information products and services contribute to the conditions of success for the goals your organisation cares about. With this activity, you will be able to:
Map your products, services and expertise to the actions that make a difference to users and stakeholders
Connect your day-to-day operations with organisational value
Establish KPIs to demonstrate your contributions.
In this webinar, we will walk through the activity Jinfo designed to define your contributions to the Value Chain.
To get the most out of this recording, review this article from our Focus on Value Chain:
Viewing this recording alongside the activity will enable you to begin the process of analysing your work in the Value Chain context.
To work with tailored guidance from Jinfo's experienced analysts, contact us about Consulting on Value Chain today.
Webinar Recording and/or Slide Deck
This event has passed, and a recording and/or slide deck is available for Jinfo clients.
If you are a client, please sign in here so that we can check your account:
About this Webinar
Webinar title: Value Chain (step three - your contributions to the Value Chain)

Related articles:
What's new at Jinfo?
Let's talk about managing up
20th April 2023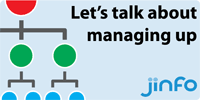 Community dates
---
[New] The Jinfo Subscription is back by popular demand!
---
"The goalposts keep moving..."
1st March 2023
Corporate belt-tightening continues and we are all being asked to do "more with less". But how practical is it to maintain service levels with diminishing resources? Before the straw breaks the proverbial camel's back, how do information leaders proactively manage stakeholders' expectations and resist the urge to "make do and mend" when budgets are tight?
Read on the Blog