Value Chain (step four - measurement - selecting and collecting data)
Jinfo Webinar
30th August 2021
[Focus: Value Chain]
Description
If you've been working through our series of activities on the Value Chain, you'll be some way towards creating your own set of components of success for your organisation. Before you present your results to stakeholders, you will have to identify the data points that track that success.
In this webinar, we will walk through the activity Jinfo has designed to find the data you need to measure, which enables you to identify and collect:
Data you already have
Data you could get
Potential data you need to research further
Desired data that is unavailable.
To get the most out of this recording, review this article from our Focus on Value Chain:
Viewing this recording alongside the activity will enable you to begin the process of defining and collecting the data you need to measure success.
To work with tailored guidance from Jinfo's experienced analysts, contact us about Consulting on Value Chain today.
Webinar Recording and/or Slide Deck
This event has passed, and a recording and/or slide deck is available for Jinfo clients.
If you are a client, please sign in here so that we can check your account:
About this Webinar
Webinar title: Value Chain (step four - measurement - selecting and collecting data)

Related articles:
What's new at Jinfo?
Holding vendors to account
Thursday, 15th December 2022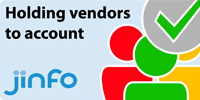 Community dates
---
[New] The Jinfo Subscription is back by popular demand!
13th October 2022
---
"Are you in a "proactive state of resilience"?"
15th November 2022
With the year end looming, our clients are closing out their 2022 deliverables and turning their attention to 2023 and the challenge of a more uncertain operating environment.
Read on the Blog