Value Chain (step five - putting the Value Chain together)
Jinfo Webinar
31st August 2021
[Focus: Value Chain]
Description
There is an art to concise reporting. It requires you to understand your audience, what they're looking for, and their likely questions, and then provide the clearest responses to their needs.
Develop your reporting framework to:
Compile effective reports that demonstrate the value of information expertise and products
Tell your value story to the right stakeholders in the right way
Show how different parts of the portfolio are performing, based on investment goals.
In this webinar, we will walk through the activity Jinfo designed to help you develop reporting for your Value Chain analysis.
To get the most out of this recording, review this article from our Focus on Value Chain:
Viewing this recording alongside the activity will enable you to design a report demonstrating your contribution to the Value Chain.
To work with tailored guidance from Jinfo's experienced analysts, contact us about Consulting on Value Chain today.
Webinar Recording and/or Slide Deck
This event has passed, and a recording and/or slide deck is available for customers with access to Content and Community.
If you are a client, please sign in here so that we can check your account:
About this Webinar
Webinar title: Value Chain (step five - putting the Value Chain together)

Related articles:
What's new at Jinfo?
Jinfo Overview - August 2021
View on YouTube
---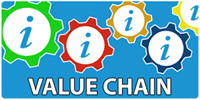 Five newly recorded webinars on how to complete the activities in our Focus on Value Chain now available.
---
Express value the way stakeholders do with Value Chain analysis
"I can now sit in a meeting with my stakeholders and articulate the role information plays in their workflows. They understand our contribution to their success." Information Senior Scientist, heavy manufacturing industry
---
With Jinfo Consulting, you get accountability, fine-tuned guidance and industry-wide perspective.