Hone your user efficiency with workflow tools
Jinfo Webinar
21st February 2019
[Research Focus: The accidental technologist - where your expertise meets the new world]
Description
As part of our Research Focus, "The accidental technologist", we mapped the complex technology environment in which information teams operate, dividing them into four key areas according to the specific challenges or problems they address
In this session, Robin Neidorf, Jinfo's director of research, presents that research, focusing on the area of user efficiency. User efficiency covers technologies such as:
Platform customisation
Peer-to-peer engagement
Email
Instant chat
Chatbots
Dashboards.
Robin highlights how to use Jinfo's research into technology clusters and the key benefits of user efficiency technologies, from improving workflow to saving the information team time and deriving more value from licensed and internal assets.
She is joined by Arthur Brady, president of Altarama Information Systems. Arthur will give us his insights, using Altarama's query management tool (RefTracker) as an example of a user efficiency and management platform.
Webinars are open to licensed users on a Jinfo Subscription. Spaces are limited.
If you have a question about this event, or are unsure if you have a subscription, please contact us.
Date:
Thursday, 21 February 2019 at 08:00 Pacific / 10:00 Central / 11:00 Eastern / 16:00 (GMT) / 17:00 Europe, 60 minutes.
Webinar Recording and/or Slide Deck
This event has passed, and a recording and/or slide deck is available for customers with a Jinfo Subscription.
If you have a Jinfo Subscription, please sign in here so that we can check your account:
If you are considering purchasing a Jinfo Subscription and would like to request guest access to view the recording, please contact us.
About this Webinar
Webinar title: Hone your user efficiency with workflow tools

Related reports:
What's new at Jinfo?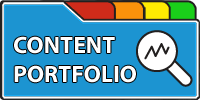 Latest in this Focus: Scorecards. Use Jinfo's step-by-step methodology to craft scorecards to strengthen negotiations, communicate with stakeholders, compare value of products and manage your portfolio more strategically.
---
What's your priority?
Use our self-assessment worksheet to determine your pathway towards more strategic portfolio management: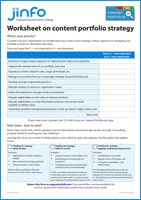 ---
A Jinfo Subscription gets you access to activity-based content to move your projects forward, plus dynamic peer group discussions on meaty topics.