Jody Ridgwell
Production and Design Manager
Jody Ridgwell joined the Jinfo team in 2008 and is responsible for design and production. He puts together all our publications and manages workflow relating to production and deadlines.
Jody was previously a designer at a graphic design agency, and can be reached at jody.ridgwell@jinfo.com
Articles by Jody Ridgwell:
---

Enhancements to the Jinfo website
Thursday, 21st January 2021
Find out about the improvements to Jinfo's website and how we've enabled more streamlined viewing and saving of content and made it easier to access and navigate the site.
---

Jinfo Newsletter 450 has been published
Thursday, 7th July 2016
Jinfo Newsletter 450 has been published. Help shape our research and editorial focus by giving us your inputs into our latest survey.
---

Jinfo Newsletter 449 published
Thursday, 23rd June 2016
Jinfo Newsletter 449 has been published. How to re-balance time and resources to achieve excellence in information services.
---

Jinfo Newsletter 448 Published
Thursday, 9th June 2016
Jinfo Newsletter 448 has been published. How to focus your services, interactions and development on source expertise.
---

Jinfo Newsletter 447 Published
Thursday, 19th May 2016
Jinfo Newsletter 447 has been published. Tap into the technology expertise of your colleagues in IT.
What's new at Jinfo?
Building competitive advantage
9th February 2023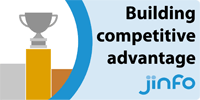 Community dates
---
[New] The Jinfo Subscription is back by popular demand!
---
"Happy anniversary Jinfo, née FreePint"
4th January 2023
25 years, 600 editions, 500 contributors. Jinfo has come a long way, and so has the value of information work. However, information leaders still need to win the war for talent, hold vendors to account, and keep an eye on competitors.
Read on the Blog