Yulia Aspinall

Yulia Aspinall, PhD is an independent knowledge and information strategist and accredited consultant partner for Harrison Assessment Talent Solutions - digital analytics system for talents pipeline management. Following more than 20 years of experience with major biopharmaceutical companies in the areas of market/competitor/customer intelligence, knowledge & information management (KIM) and Talents Pipeline system application, Yulia set up YVA Info Consultancy which specialises in application of her signature tool - KIM pyramid to diagnose and correct problems in organisational knowledge and information flow to enable effective utilisation of corporations" human and technological assets. Her articles on competitive intelligence and information resources are published in Jinfo and Business Information Review.
She can be contacted on yulia.aspinall@yahoo.com
Articles by Yulia Aspinall:
---

How does Jinfo's benchmarking research apply to pharma?
Monday, 10th September 2018
Senior information managers from pharmaceutical and life science sectors were invited to join an online Community session to discuss the results of Jinfo's Research Focus, "Benchmarking information roles - Jinfo models of excellence". This article looks in more depth at some of the key research findings and offers several tips on practical application of the research.
---

Why project management is an essential skill for information professionals
Friday, 18th May 2018
Almost half of all failed projects are caused by poor decision-making, so the importance of good project management (PM) skills, particularly for information professionals, is paramount, Yulia Aspinall explains.
---

The importance of project management for visibility into capacity
Thursday, 17th May 2018
To succeed in the information profession requires many skills and a knowledge of a wide range of information resources and tools but to keep organised it's essential to have project management skills. In this article, we take a look at the importance of these skills to the information professional and highlight some of the leading software that can be used to better manage your workload along with some practical steps you can incorporate in your daily work.
---

Business Intelligence Provision in the Biopharma Industry
Tuesday, 16th June 2015
Yulia Aspinall explores the changing options for collecting and channelling business intelligence, insight and analytics, with particular reference to developments in the biopharma industry.
---

The Role of Competitive Intelligence in Biopharma - Developing Market Access Strategies
Monday, 23rd February 2015
Yulia Aspinall considers the role of competitive intelligence in developing and marketing new drugs, and how information from FreePint can help information professionals harvest intelligence from sources such as specialist drug development databases, news platforms and knowledge software.
Reports by Yulia Aspinall:
---

FreePint Report: Product Review of Cortellis
Tuesday, 22nd July 2014
Cortellis draws on well-known databases such as Thomson Pharma and IDRAC to offer a wealth of information across the entire drug development cycle. Yu...
---

FreePint Report: Product Review of ScienceDirect Reference Modules
Thursday, 12th June 2014
Reference Modules is a reference solution integrated into Elsevier"s ScienceDirect platform. The two modules already available to researchers are: Che...
---

FreePint Report: Product Review of PharmaCircle
Thursday, 27th March 2014
PharmaCircle, an online resource for professionals in the biopharmaceutical industry, is an impressive product with comprehensive content, proprietary...
---

FreePint Report: Product Review of InfoNgen
Tuesday, 17th December 2013
Yulia Aspinall reviews InfoNgen, a "discovery engine" which combines the ability to do metasearches of all or selected internal and external sources o...
---

FreePint Report: Product Review of Scopus
Tuesday, 24th July 2012
Scopus was created in 2004 by Elsevier, one of the world"s leading providers of science and health information, in conjunction with over 300 individua...
What's new at Jinfo?
Jinfo Overview - August 2021
View on YouTube
---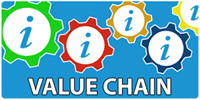 Five newly recorded webinars on how to complete the activities in our Focus on Value Chain now available.
---
Express value the way stakeholders do with Value Chain analysis
"I can now sit in a meeting with my stakeholders and articulate the role information plays in their workflows. They understand our contribution to their success." Information Senior Scientist, heavy manufacturing industry
---
With Jinfo Consulting, you get accountability, fine-tuned guidance and industry-wide perspective.