Mirjam Wolfrum

Mirjam has 10 years of business research experience gained as a database administrator and desk researcher at the German Press Agency, as information manager at a business consultancy and as head of the information department of the Goethe Institute in Brussels, in charge of monitoring and information on EU regulations and programmes.
Her information consultancy CleanTech Information Research provides strategic international business information and data-driven journalism for companies and organisations in the sector of clean/green technologies.
Working in English, French, German, Spanish and Portuguese, she is an expert on Western Europe and Latin America.
Mirjam can be contacted via mw@cleantechinformation.com.
Articles by Mirjam Wolfrum:
---

Insider Knowledge - Researching Oil & Gas
Thursday, 23rd July 2015
Oil and gas have been used for hundreds of years. In the beginning, oil was used to replace whale oil. Since John D. Rockefeller founded the "Standard Oil Company" in 1870, "black gold" has begun to triumph. Today oil and gas still drive today's world economy. Access to and control of these commodities is especially critical to the world's most energy consuming countries. This is why there are numerous international and national industry associations, intergovernmental and non-governmental organisations, profit and non-profit information providers who all provide data for your research, Mirjam Wolfrum provides a guide through the maze.
---

My Favourite Tipples from an International Business Researcher
Tuesday, 5th May 2015
My Favourite Tipples are shared by Mirjam Wolfrum, a researcher specialising in strategic international business information with a focus on clean and green technologies. She shares her favourite online resources in areas from statistics to tools for cleaning messy data, and sites for reliable freeware downloads.
---

Researching Hispanic America - Navigating a Diverse Information Landscape
Tuesday, 14th April 2015
Latin American business information specialist Mirjam Wolfrum provides sources, background knowledge and tips for conducting research on companies, economic data and industries in Hispanic Latin America.
---

Insider Knowledge - Researching Hispanic America
Monday, 13th April 2015
Conducting research in Hispanic America will depend a lot on the country you are interested in. In this article Hispanic America means all Spanish-speaking countries from Mexico to Argentina, excluding the Caribbean states. As a general rule we can say that the more interest the global economy has in one particular market, the more information in English will be available. This means that there is more information on economics and businesses available for emerging countries such as Mexico and Columbia and only scanty information on smaller "less economically interesting" countries such as Honduras or Paraguay.

Mirjam Wolfrum explains what kind of information you will be able to obtain from English sources and when you should consider involving a local partner or a Spanish-speaking information expert.
---

Access to an Emerging Market - Starting Research in Brazil
Friday, 20th March 2015
Latin American business information specialist Mirjam Wolfrum provides a starting point for conducting research on companies, economic data and industries in Brazil. She also highlights some of the challenges such as the importance of local language (Portuguese) and local researchers.
What's new at Jinfo?
Jinfo Overview - August 2021
View on YouTube
---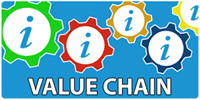 Five newly recorded webinars on how to complete the activities in our Focus on Value Chain now available.
---
Express value the way stakeholders do with Value Chain analysis
"I can now sit in a meeting with my stakeholders and articulate the role information plays in their workflows. They understand our contribution to their success." Information Senior Scientist, heavy manufacturing industry
---
With Jinfo Consulting, you get accountability, fine-tuned guidance and industry-wide perspective.