Clive Snell

Clive is an entrepreneur and proven chief executive with over 25 years" experience in media organisations. While a director at VNU Business Publications he ran some of the UK"s most successful business to business IT publications. As managing director of Learned Information (Europe) Ltd he ran the Online Information conference and exhibition.
Clive then set up Bizmedia - a multi-channel specialist B2B media company. This business had particular success in the emerging elearning market developing online and offline media and a celebrated Awards scheme (The E-learning Awards) and was sold to Closer Still Media at the end of 2014.
Clive is now a founding director and MD of Info International. Info International is a face-to-face media company that creates platforms, events and networks to explore where data science, content and technology come together. He also acts in an advisory capacity in the learning technology and information markets.
Articles by Clive Snell:
---

ConTech 2018 - a new conference on AI, data science & tech
Tuesday, 4th September 2018
Clive Snell gives an insight into the speakers and key themes for ConTech 2018, a new event focusing on data science, AI and emerging technologies, taking place in London in November.
---

ConTech 2018 - transforming content through data science, AI and other emerging technologies
Friday, 25th May 2018
ConTech is a brand new event taking place this November in London which will focus on the key issues affecting the information profession, especially the impact of new and emerging technologies on content creation, distribution and consumption. Transformative technologies such as machine learning and AI are at the forefront of this change and conference sessions will offer practical advice on how to make the most of data science opportunities. And you can benefit from a discount if you sign up now.
What's new at Jinfo?
Jinfo Overview - August 2021
View on YouTube
---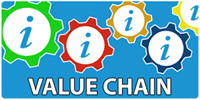 Five newly recorded webinars on how to complete the activities in our Focus on Value Chain now available.
---
Express value the way stakeholders do with Value Chain analysis
"I can now sit in a meeting with my stakeholders and articulate the role information plays in their workflows. They understand our contribution to their success." Information Senior Scientist, heavy manufacturing industry
---
With Jinfo Consulting, you get accountability, fine-tuned guidance and industry-wide perspective.