You know more than you think you do
Jinfo Blog
Tuesday, 16th November 2021
Abstract
No one in your organisation is better equipped to define and implement information strategy than you are. Jinfo clients successfully position themselves as expert advisers to their organisations and an essential component of business results. Work with Jinfo to position your content portfolio as a strategic asset.
Item
It's easy to underestimate the depth of your own expertise. When you know your job and your industry inside out, you have to remind yourself that you have valuable insight your stakeholders need.
One recent client comment is typical of how information teams underestimate their knowledge, reach and influence. Following completion of a stakeholder mapping exercise, the client told us: "We didn't realise how many senior people we knew."
Like many information teams, this client is working to shift its relationship with senior stakeholders from service provider to expert adviser. To make that shift, relationships cultivated over years are pure gold.
I shared this client's comment with my colleagues at Jinfo. It turns out, "You know more than you think you do" is something we have frequently said to many information teams across every industry we've worked in.
In fact, Jinfo clients tell us that we provide them with the structure and accountability to document and assess their expertise, and then leverage it to make those relationship shifts, negotiate more effectively, and advocate for the necessary budget.
We believe that no one in your organisation is better equipped than you are to define and implement information strategy.
If you are ready to work on information strategy but are not sure you have the time or perspective to do it with confidence, let's talk.
Contact me at stephen.phillips@jinfo.com, or complete the form on our site to learn more about becoming a Jinfo client.
About this article
Blog post title: You know more than you think you do
What's new at Jinfo?
Holding vendors to account
Thursday, 15th December 2022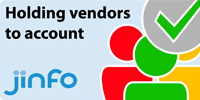 Community dates
---
[New] The Jinfo Subscription is back by popular demand!
13th October 2022
---
"Are you in a "proactive state of resilience"?"
15th November 2022
With the year end looming, our clients are closing out their 2022 deliverables and turning their attention to 2023 and the challenge of a more uncertain operating environment.
Read on the Blog