Contribute to the news and current awareness survey 2023
Jinfo Blog
2nd May 2023
Abstract
LAST CHANCE: Participate in our survey on news and current awareness, and receive a summary of the results.


Item
If your team provides news and current awareness services, are you:
expending resources assessing a multitude of sources?
finding the best way to reach users?
evaluating your impact?
If you haven't taken a critical look at how you deliver news and current awareness in the last three years, now is the time to benchmark your provision and re-evaluate your goals, procedures and tools.
LAST CHANCE: Please participate in this year's "News and current awareness survey" to help us understand how you are keeping up with news, current awareness and enabling clients with these critical services:
Jinfo has been collecting data on this topic since 2007. The previous survey showed that news and current awareness is still a critical service, but there is rapid change with new tools and technologies emerging to collect, evaluate and share this information.
We will aggregate and anonymise the data collected, and create a report to help you benchmark your services and advocate for improvement when talking to both vendors and your leaders.
As a thank you for investing 10 minutes in completing the survey, you will receive a free copy of the summary results.
About this article
Blog post title: Contribute to the news and current awareness survey 2023
What's new at Jinfo?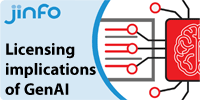 Community session: Legal implications of licensing third party content for GenAI
24th October 2023
Community dates
---
"Talent management, legal news cut, generative AI developments and new products"
5th September 2023
Learn about the vital role of nurturing the talent pipeline and succession. There's now a legal cut of our news and current awareness survey. And a real need for information managers to assert themselves to maximise the value of generative AI and mitigate the risks.
Read on the Blog