ILI 2010: the future lies in the cloud
Jinfo Blog
Sunday, 17th October 2010
Item
Day two of this year's Internet Librarian International Conference, held in London on October 14 and 15 concentrated on the use of digital media in a library environment and included some thought-provoking presentations. The overriding theme of the day was: embrace the virtual world or become irrelevant. Most of the sessions I attended were about the adoption of social media in a library context, starting with a keynote speech by Dr Hazel Hall of Edinburgh Napier University on 'Getting Real about Social Media'. Dr Hall argued that social media tools are no longer an alternative to how we communicate with each other, but are part of 'real life'. They provide additional platforms for information delivery and communication, which library services have to take heed of in order to stay ahead of the curve. (for a posting on Dr Hall's presentation at an SLA Europe event earlier this year on 'Tweeting while we work', go to http://www.vivavip.com/go/e28355) Hazel Hall described how in her academic environment, colleagues were increasingly moving away from the use of email lists towards using Twitter for collaborative project work. Feeds are used for raising profiles, peer review work and for training purposes. Twitter is also a powerful tool for library services delivery: for news and current awareness, for general information dissemination (or 'twinforming', a new term coined by Dr Hall to signify 'informing via Twitter) and not least, to market their own services to their customers. Finally, Hall called for information professionals to deploy social media tools beyond the obvious use of information dissemination, to use them to collaborate with end-users and to develop stakeholder participation via tools like crowd sourcing. Michael Stephens of the Dominican University in Illinois is a library evangelist. He further developed the theme of librarians embracing the virtual world and argued for the 'transparent library', one that focuses on serving all its user groups: physical, virtual and non-users alike. Libraries should not only be the 'keepers' and 'sharers' of stories, but also their 'makers'. This means that libraries need to embrace cloud computing and make sure that technology becomes part of their mission. Stephens welcomed the incorporation of libraries in non-traditional places and highlighted the example of Amsterdam Airport's library as a case in point. So, while librarians should never stray from their core values, they need to constantly watch the horizon for 'the next big thing'. Social media tools allow them to break down barriers, extend their mission, look for connections and develop a personal learning network. The conference's closing talk was all about the future of libraries. Presented by Thomas Brevik from the Royal Norwegian Naval Academy and Ake Nygren from the Stockholm Public Library, we were treated to a futuristic view of libraries, where geophysical services become increasingly important and library content moves out of the libraries to the cloud. Librarians have a unique set of skills – they are the connectors between the text and technology. The presenters argued that as long as libraries remain close to their customers and remember that content sharing is more important than the physical book, there is a future for the profession. Go to http://www.internet-librarian.com/2010/ for details of the conference and other speakers and to #ili2010 to read conference comments and presentations on Twitter.
About this article
Blog post title: ILI 2010: the future lies in the cloud
What's new at Jinfo?
Upcoming Community sessions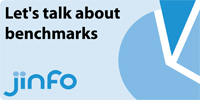 ---
"Is the client always right?"
21st September 2022
Whilst user expressions of value are important, they should be treated with caution. Information leaders can offer significant value by enabling smart decisions about information products and services. Realising this potential hinges on your ability to frame the question and offer potential solutions that serve the best interests of your organisation.
Read on the Blog